Sparty Plaque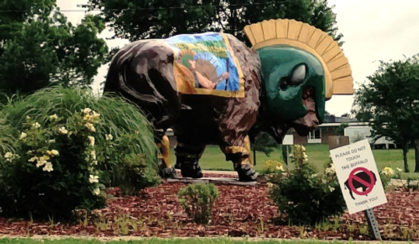 Hi class of SHS 1970. My name is Pat Bertuzzi Middleton, Class of SHS '73 and I am helping Beth Marable, Class of 71 on the Sooner Memorial Plaque currently at the SHS Buffalos Sparty location. This memorial plaque lists names of deceased classmates and teachers from 1967 to 1982.
Once a year we ask for donations to help maintain the Sooner gardens, maintain the SHS buffalos and update the memorial plaque(s). Starting October 1, 2020 and ending October 31, 2020. Please no cash, PayPal or plastic.
Checks made payable to Catholic Charities Mary Martha Outreach. In the memo write "All School Sooner Buffalo Sparty". You will get a tax deduction letter from CCMMR.
$20.00 per name. Please list the name(s)/year(s) they graduated, if necessary you can use a separate piece of paper.

You can either mail to:
Beth Marable
322 Park Hill Lane
Bartlesville, OK 74006
H#918.333.3572
Pat Bertuzzi Middleton
1328 Oakdale Dr.
Bartlesville, OK 74006
please pm me with any questions.

A new plaque(s) will be purchased to accommodate the additional names. It will be ordered in November and placed at the Buffalo location in front of our old Sooner High School, weather permitting.
I hope everyone will help honor those classmates that are no longer with us.
Pat Bertuzzi Middleton, SHS Class of 1973. Once a Spartan, always a Spartan.
At this time this in my list of 1970 deceased classmates per Jan, Vickie and Cindy:
ALF, Karen
BAILEY, Steven
BALLARD, Eddie
BANKS, Mary
BARNHART, Steve
BIESLEY, Rayma
BLANKENSHIP, Mary Grace
BRADLEY, Gayle
CHICHESTER, Mary Jane
CLAYTON, Boyd
CORBIN, Cathy
FRIEND, Janice
FRYHOFER, Jeanette
GAMLIN, Dean
GEORGE, Steve
GETTYS, John
GRAHAM, Carter
GRAHAM, Rick on 2019 memorial
GRAMBLIN, David
GRAY, Randy
HAAS, Ann
HAMLIN, Steve
HARVEY, Mary
HAWK, Kris
HILL, George
HOUSTON, Jim
JACKSON, Stan
KENYOUN, Sharon
KING, Jerry
KUERSTON, Janice
LANDRIGAN, Shannon
LEWIS, Betty
LIND, Paula
LOCKHART, Wes
LOWREY, George
LOWREY,Ricky
McCABE, Marilyn
McELHATTEN, Melanie
MEYER, Richard
MULLEN BARRETT, Celeste
PHELAN, Jeff
PITCHFORD, Larry
PROCTOR, Mike on 2020 memorial by Margo Brown Proctor
REID, Ted,
REMKE, Neal
ROHDE, Janet
SCHUELER, J. D.
SPAULDING, Lynn
THOMPSON, Laurie
VILLARREAL, Tom
WARD, Donna
ZEHREN, Walter

10/16/2020
Cindy Bell adds
The current plaque reads:

Faculty/Staff

In Loving Memory of:

Craighead, Della--English Teacher
Cuplin, Morton and wife, Pat--Band/orchestra
Fugett, Wes--Teacher
Gross (Cross), Ken--Teacher/Coach
Kaiser, Noel--Choir Director
Lipe, Russell--Principal
Sparks, Suzanne---Spanish Teacher

In Honor of;

Beierschmitt, Bill--Principal/Teacher/Coach
Farris, Diana--Teacher
Gibson, Don--Teacher/Coach

I just learned that faculty names can be added at no cost, but you have to request them.

As of now, the following names have been added to the plaque for 1970 class

Karen Alf
Carter Graham
Rick Graham
David Gramblin
Randy Gray
George Hill
Janice Kuerston
Betty Lewis
Ricky Lowrey
Melanie McElhattan
Richard Meyer
Jeff Phelan
Mike Proctor
Neal Remke
Janet Rohde
JD Schuler

And they are adding Coach Calvert to the faculty list.
— Cindy Bell